145th anniversary of Istanbul tram in exhibition The Kadıköy-Moda line had 20 cars, starting on July 29, 1934, and stayed in service till 1966 when the line was canceled.
Bringing developments in transportation, industry and communication history to people that visit its large collections, the Rahmi M. Koç Museum in Istanbul invites everyone to see the horse car on its 145th anniversary
A group of people gathered around a vehicle that they hadn't been seen in Istanbul for 145 years. It would be easier for everyone to go to Bosporus neighborhoods where traveling took much longer due the opportunities and conditions of the period. "The horse car," the opening of which was held on the Azapkapı-Ortaköy route, is waiting for its lovers at the Rahmi M. Koç Museum.
After the birth of mechanized industry with steam-machines in the 18th and 19th centuries, the accumulation of capital in Europe caused the Industrial Revolution. The biggest symbol of the Industrial Revolution was steam trains, and horse cars, which were the supreme public transportation vehicles. Horse cars were inspired by vehicles used for carrying coal in the mines of England and were first used in New York in 1832, and horse car companies became common in Paris, London, Vienna and Sofia. They were brought for Istanbulites by Sir Constantine Karapano on Sept. 3, 1872. The horse car displayed in the museum served the Beşiktaş-Karaköy line. It is exhibited in its original state of the Ottoman Period.
The rail transportation collection of the museum is exhibited in two different sections. Ottoman Sultan Abdulaziz's Royal Carriage, railroad vehicles, including the Kadıköy-Moda tram, other trams and locomotive models and various photographs of railroads along with ephemeras can be seen by visitors.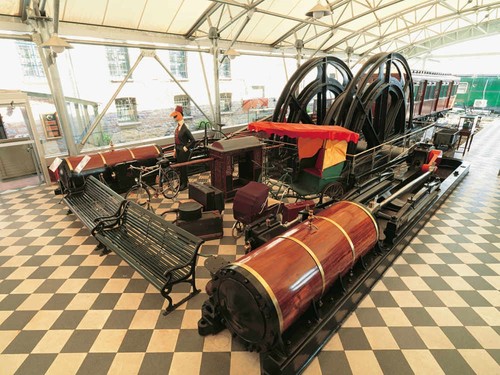 Kadıköy-Moda tram

The Kadıköy-Moda line had 20 cars, starting on July 29, 1934, and stayed in service till 1966 when the line was canceled. The tram is given to the museum by IETT (Istanbul Electric Tramway and Tunnel Establishments) periodically.

Tunnel carriage and its machine

The tunnel, which is a short and steep subway between the Galata district and İstiklal Street, is the second oldest subway after the metros of London and New York. It came into service on Jan. 17, 1975. This passenger carriage was produced by Schnieder Creusot Iron Steel Works Company in France in 1873. The carriage was connected to a twin-cylinder steam machine by moving bi-directionally with metal belts. It is also given to the museum by the IETT periodically.

The Royal Carriage of Sultan Abdülaziz

Having been produced in Birmingham, England, this carriage was presented to Sultan Abdülaziz by the English company that constructed the first railroad in Turkey. It was used on the Europe journey where he held meetings with French Emperor Napoleon III, Queen Victoria of England, the Belgium King, the King of Prussia and lastly the Austria Hungary Emperor.

G10 Locomotive and its tender

The first G10 locomotive started to be used in 1910, and its production continued till 1925. Known as the G10 and BR57 when they served in Germany, 49 of the locomotives were brought to Turkey. Produced by the Borsig Company in 1912-1913, the locomotive, which served for many years, is on display in the museum.

The Rahmi M. Koç Museum is the only industry museum that reflects developments in transportation, industry and communication history in Turkey. Presenting culture and entertainment with training and workshops for children and with its collection consisting of more than 14,000 objects, the museum presents opportunities such as a submarine journey to a nostalgic train tour. The museum can be visited from 10.00 a.m. until 5.00 p.m. on weekdays excluding Monday. It is open from 10.00 a.m. and 6.00 p.m. (Oct.1 until March 31), from 10.00 a.m. until 07.00 p.m. (April 1 to Sept. 30) on weekends and on public holidays.

Source: Daily Sabah

<!-comments-button-->