Ai Weiwei's porcelain offers a feast for Istanbul art lovers Wei has a vast collection of broken old porcelain, all bearing a tiger figure unique to the dynasty.
On the hot agenda of artistic spheres around the world, Chinese artist Ai Weiwei has opened an exhibition in Istanbul,calling art lovers who want to see his porcelain artwork that mingle traditional art with modern interventions
Located on the shore of the Bosporus, Sabancı University's Sakıp Sabancı Museum hosts the first exhibition of sensational Chinese artist Ai Weiwei in Turkey. A large collection of the artist's previous works along with new ones are being presented in the exhibition, which opened yesterday and will run until Jan. 28, 2018.
Focusing on Ai Weiwei's porcelain works, the exhibition narrates both the life story of the artist and his approach to handcraft tradition and art history. Every stage of Ai Weiwei's journey in porcelain is represented by iconic works in the exhibition.
The artist transfers messages about today's world to us via traditional Chinese handicrafts, and his art provides spectators a perspective on the paradoxes of our age.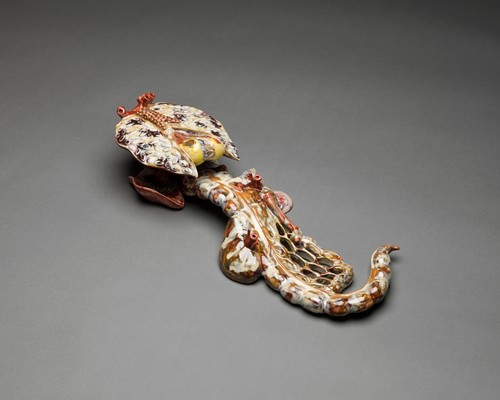 The exhibition presents an extensive view on the artist's perspective with works that have a unique structure produced by a repetition of the themes.

Questioning the concepts of authenticity, changing value systems and cultural history, the works of the artist call everyone to discover the cultural, artistic and historical values in question.

Installing prepared objects of cultures in his works, Ai Weiwei gives spectators the opportunity to see how objects, according to their contexts, could be evaluated with values totally different from each other.

The exhibition functions as a door to fundamental questions about authenticity, the transformation of value systems throughout the different eras and the role of art in influencing social change.

Ai Weiwei treats Chinese porcelain as a material infused with meanings relating to both history and the present day, and he uses traditional forms and idioms in current debates.

"Ai Weiwei on Porcelain" offers a comprehensive selection of methods that are used as determining elements in his porcelain works.

The exhibition focuses on Ai Weiwei's prolific journey in porcelain production and presents his iconic works. His work "Sunflower Seeds" is a good example of how he uses both the connection of porcelain production with history and interpretations of the contemporary state of porcelain as a material.

One of his iconoclastic works, "Dropping a Han Dynasty Urn," illustrates different transformation methods to question current value systems.

His other works "Blue and White Porcelain Plates" and "Stacked Porcelain Vases as a Pillar," which Ai Weiwei produced for the Istanbul exhibition, stimulate ideas about the current crisis by making a reference to ancient Greek and Egyptian carvings and ceramics.

Ai Weiwei confutes the difference between the authentic object and its replica by questioning the concept of authenticity in his replica works.

In light of antiques these days, the artist reflects on history by adapting the logic of Chinese and Greek pot decorations and of Egyptian wall paintings, and he presents an extensive perspective about the world.

A program of workshops, children's educational sessions, conferences and panels will take a comprehensive look at Ai Weiwei's art throughout the "Ai Weiwei on Porcelain" exhibition.

The first of these activities is a talk by the artist and a conversation about his art production methods with Sir Norman Rosenthal, former director of the Royal Academy of Arts in London, at 6 p.m. today.

Ai Weiwei's exhibition in the SU Sakıp Sabancı Museum will shine as a unique atmosphere where spectators can discover the works of this authentic artist with an extensive collection of porcelain, in which the first work dates 40 years and has more than 100 works.
AI WEIWEI

Ai Weiwei, one of the most influential figures of contemporary art, born and raised in China, has been working in a wide range of disciplines, including statue, large-scale installations, film and architecture.

His works deal with matters of authenticity and changing value systems, providing spectators with a perspective on cultural and political issues.

The current messages of Ai Weiwei, who is a political and social commentator pulling no punches, are an indivisible part of the perspective he presents us about our culture, history and art values.

Ai Weiwei, who was born in Beijing as a son of dissident poet Ai Qing, has supported contemporary art in China.

Growing up in "a retraining camp" to which he had been sent with his family in 1959 because of the Chinese Communist Party's accusation against his father, Ai Weiwei went to the U.S. in 1981.

His met leading art figures, such as Marcel Duchamp and Andy Warhol, and they affected his approach to contemporary art.

When he returned to China in 1993, his experiments on traditional objects and handicrafts provided him the chance of building bridges between old and new China as well as between the past and the present.

Ai Weiwei's art blurred the difference between political activism and contemporary art as a result of his works rising from his activist experiences, his research projects like "Citizen Investigation" that he made about the victims of the 2008 Sichuan Earthquake, and his use of social media as a way of opposition.

Ai Weiwei has been presenting new ways to comment on and perceive the world for 30 years with his works about historical perception and contemporary dynamics. He received the 2015 Ambassador of Conscience Award from Amnesty International and the 2012 Vaclav Havel Prize for Creative Dissent from the Human Rights Foundation.

His recent works are "Ai Weiwei: Trace at Hirshhorn" at the Washington D.C. Hirshhorn Museum and Sculpture Garden, "Maybe, Maybe not" at the Jerusalem Israel Museum, "Law of the Journey" at the Prag National Gallery, "Ai Weiwei, Libero" at the Palazzo Strozzi, "Ai Weiwei, Translocation-Transformation" at the Vienna 21er Haus Contemporary Art Museum and "Ai Weiwei" at the London Royal Academy of Arts.

Source: Daily Sabah

<!-comments-button-->